What if Ranma and Kasumi had a secret they were keeping from the rest of the Tendou family? (Introspective) Ranma ½.
Kasumi ½ won third place Mini-Series for October, 1999 in the Best of Ranma ½ FanFiction Awards.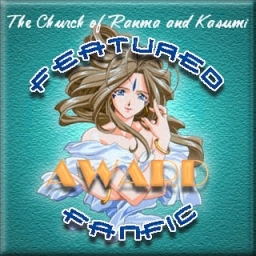 Kasumi ½ has won a 'Featured Fanfic Award' from The Church of Ranma and Kasumi. It also has the distinction of receiving three '5-Star fanfic' ratings from the readers polled on their web site, and is in contention for the award of 'Best Ranma fanfic'.
Chapter 1: "Ranma, You Idiot!!"
Chapter 2: Reckless Responsibility
Chapter 4: And I Close My Eyes To Dream -Lime warning-
Chapter 7: Promises Made, Promises Kept (Incomplete)
Kasumi ½ Side Stories
A character study of Nabiki Tendou. (Introspective)
Change
A Ranma ½ story by Adrian D. Moten
A character study of Ukyou Kuonji. (Introspective)
Life As You Like It
A Ranma ½ story by Adrian D. Moten
A character study of Shampoo. (Introspective)
Memories in a Bubble
A Ranma ½ story by Adrian D. Moten
A character study of Kodachi Kunou. (Introspective)
Stigma of a Rose
A Ranma ½ story by Adrian D. Moten